Two-Way Easter Tablescape
It's hard to believe that we are less than two weeks away from Easter! We will just be having a small dinner for the two of us and one of our children. Regardless, of how many get to share Easter dinner with you, there are still some easy and beautiful ways to make your dinner table special and memorable.
I thought it would be fun to show a simple Easter tablescape two different ways using many of the same items.
Before we get started, I want to tell you about the items that I received as a gift from a small shop on Etsy. Lisa @postalthreads has created these fabric refillable Easter eggs. They are so precious and such a fun and unique idea. Forget about plastic Easter eggs! Lisa has eggs that will match almost any color scheme, and for my vintage lovers out there, she has beautiful eggs made from vintage lace and hankies.
When Lisa sent me these fabric eggs, I knew a tablescape was what I needed to show off these beauties. Then I thought it would be fun to do TWO! So let's get started.
For the first tablescape I wanted some color! Not a lot, but I wanted to play off the sweet blue color in the fabric eggs. For the second tablescape, I went completely neutral. However, many of the elements in both settings are the same.
I began with my burlap chargers for the place settings. I used these as well as my everyday white dishes for both tablescapes. I know that I have said it before, but I will say it again. You will never go wrong with white dishes! Even if you are a huge lover of all things color. White dishes are just the perfect base to use for all colorful, or neutral, table decor that you can think of.
I also used these mini terracotta pots for both tablescapes. These came from Hobby Lobby, but of course, you can find terracotta pots almost anywhere. I just added some decorative moss in the pots for the eggs to sit on.
The next items that don't change are the glassware that I used for the centerpiece. I chose two milk glass pieces and an ironstone tureen. All three of these were thrifted! I love mixing vintage and new items. It adds so much interest, and when you have guests, those vintage pieces are also great conversation starters!
I added the same moss to the tureen that I used in the mini terracotta pots. I found these beautifully colored eggs at Michael's. I bought two packages, and each package had two neutral colors, the blue that you see here, as well as a pretty green that I ended up not using. I used part of them for this display, and then I just switched them out for the neutral ones for the other tablescape.
Now let's talk about what I changed between the two tablescapes. I used these beautiful blue salad/dessert plates. Believe it or not, I found these at Kroger a few years ago. You may not have Kroger where you live, but it is a local grocery store for us. You never know where you might find those special treasures!
I then used these blue farmhouse style napkins. Guess what? These are actually dish towels that I got from IKEA. These are some that are similar. I cut them in half and sewed up the raw edges. But you could just use them as they are for napkins as well. Think outside the box!!
I added two of the blue bunnies from my shop on top of the napkins. These could be a sweet takeaway if you have guests, or just a decorative element if you are just hosting family. Do you have littles? Leave the bunnies off all together!
Each place setting got one of the terracotta pots with an egg. I chose to fill these eggs with some tropical flavored jelly beans. You could also use them to give a small gift to your guests. I would just recommend not using unwrapped chocolate just in case it should melt. You wouldn't want to mess up these beautiful fabric eggs.
The centerpiece is very simple. I already talked about the faux eggs in the tureen. I found these pretty blue tulips at Michael's as well. The best part is that they were only $1.99 a bunch. Steal!! I bought 5 bunches for this display, and I divided them between the two milk glass pieces.
Now let's switch just a few things, and get a whole new look! I changed the eggs in the tureen to an all neutral color scheme. I replaced the blue tulips with white tulips that I found here and some white peonies and greenery from Hobby Lobby.
I swapped out the blue checked napkins for these black and white bunny napkins. These came from Pier One a few years ago, but any neutral spring napkin would work great. These would be a really cute option! I moved the terracotta pots from the plates to the napkins and added the lace fabric eggs this time.
Then I added my favorite Easter/spring plates. These transferware gray and white bunny plates were the perfect addition to this tablescape. These are from Marshall's last year. But I hear rumors that you can still find some every once in a while.
I then added the neutral bunnies from the shop to top it all off.
Voila! Two completely different tablescapes by only changing a few items.
But guess what? You could create even more looks by combining the two. Use the blue plates and blue napkins, but keep the neutral fabric eggs and neutral centerpiece. Or keep the blue tulips and blue plates, but use the neutral bunny, neutral napkins, and lace fabric eggs. So many possibilities.
Watch this quick (less than 30 seconds) video of how my tablescape came together, and the different options at the end.
The first Monday of every month, I have the privilege of joining an amazing group of bloggers for our monthly It's Good to Be Home Blog Hop. These ladies also have the best styling tips, decor ideas, crafts and DIY's. Be sure to visit each of their blogs and say hello from me while you are there.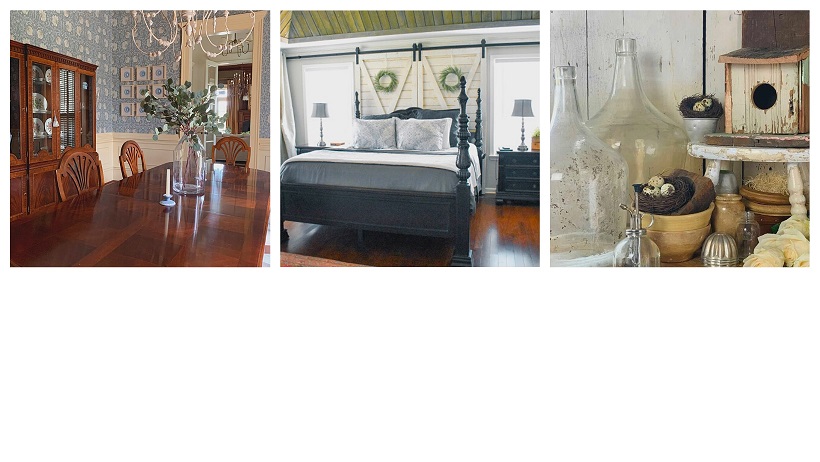 Robyn's Southern Nest / Jenron Designs / My Weathered Home
At Home in the Wildwood / The Frugal Homemaker / Southern Spangled